OUR LIVING PLANET, OUR ONLY SOURCE OF LIFE IS DYING FAST —IT'S UP US TO SAVE HER AND OUR CHILDREN'S FUTURES
IT'S TIME TO CHANGE HOW WE LIVE WITH ONE ANOTHER AND PLANET
20202 UPDATE —BURNING FOSSIL FUELS AND COVID-19 ARE JUST THE TIP OF
#OURICEBERG
it's a new day and a new world since the COVID-19 pandemic. It's a good time to think about life on Earth. To consider all we know about ourselves and our rapidly dying planet, our only source of life, our children's future here on EARTH! If you haven't signed our PETITION to change how we live with one another and planet for our children's sake! — THANK YOU!
SIGN OUR PETITION —VISIT OUR "HOME" PAGE
2017 —GLOBAL WARMING
JUST THE TIP OF OUR ICEBERG!
A great many people believe global warming is our most serious threat but its simply one of many human caused global threats. Our greatest threat today is us, how we live, especially our great and growing numbers and our unsustainable and unjust want for more. The solution we seek will not come from our big business, technology, institutions or government, as it can only happen through people everywhere living responsibly, just and sustainable as our nature world requires. If you agree, please click the AGREE button at the top of this page. It will mean the world to us. Thank you!
Many of these human caused threats exist because we often ignore them if they have no direct or immediate impact on our lives, soon no one will be immune anywhere on Earth, our once Pardice Earth like no other.
GLOBAL THREATS
Poverty Injustice Genocide Distrust and Alienation Big Business and Big Profits for a Few Loss of Family and Community Values Nuclear Energy and its Deadly Waste Continued Manufacture and use of Unhealthy and Deadly Products Never Ending Militarization and Conflicts for Power and Authority over Others and Resources Nuclear weapons —complete annihilation by accident or intent waiting to happen Our large and growing numbers and especially our growing unsustainable and unjust want for more than our living world is capable of providing!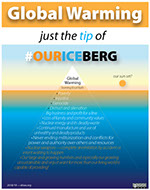 PLEASE AGREE WITH OUR MISSION AND WORK IF YOU HAVE NOT DONE SO —THANK YOU!