OUR LIVING PLANET, OUR ONLY SOURCE OF LIFE IS DYING FAST —IT'S UP US TO SAVE HER AND OUR CHILDREN'S FUTURES
IT'S TIME TO CHANGE HOW WE LIVE WITH ONE ANOTHER AND PLANET
Founders Foundation Fund
Consider demonstrating your support

for OHIAS's

mission and its first community benefit project

a community benefit cooperative for all people of Marin.
Become one of the
first to step forward

and help us establish a solid and lasting foundation for

community health and benefit.
Our Founders Foundation Fund program is built around a
circular structure
(virtual) t
hat grows as new Founders come forward to join and support our mission and work. The structure below illustrates it first configuration consisting of 4 columns (including Foot and Cap Stones) 104 floor stones and 28 foundation (below ground level
Our First Founders Foundation Fund group will be
recorded in our virtual (digital) space for all posterity

and will hold their unique positions as first (north), second (south), third (east) and fourth (west) Founders as illustrated with the four columns below.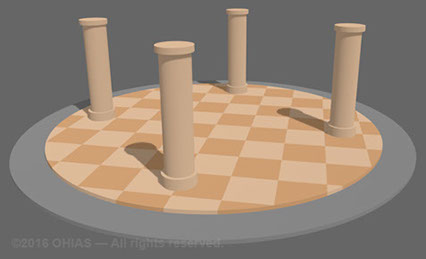 PLEASE AGREE WITH OUR MISSION AND WORK IF YOU HAVE NOT DONE SO —THANK YOU!