OUR LIVING PLANET, OUR ONLY SOURCE OF LIFE IS DYING FAST —IT'S UP US TO SAVE HER AND OUR CHILDREN'S FUTURES
IT'S TIME TO CHANGE HOW WE LIVE WITH ONE ANOTHER AND PLANET
Many of our Urban Forest benefits are ignored and wasted away when we can least afford it.
Today, urban trees are typically managed primarily for their living benefits and value. Felled urban trees are
rarely harvested with an eye toward additional uses,

even though timber from American urban areas could produce

4 billion board feet of lumber

annually. The failure to manage trees from seed to sawdust leads to the unnecessary loss of valuable natural resources and unnecessary expenses for communities and homeowners. We are losing more than just a resource. When we cut down trees and grind them up for whatever reason we are also hasening the release of more greenhouse gases into our atmosphere so its best for us to do what we can to use the wood from our trees and sequestor the carbon.
The following description of highest and best use is from the Urban Forest Products Alliance .
Highest and best use: Use that garners the greatest economic, social, and environmental return given the quality and quantity of the resource. Highest use maintains the greatest integrity of the resource, even showcasing it, and best use acknowledges practical economic, environmental, and societal realities.
We agree with the Urban Forest Products Alliance vision and embrace it.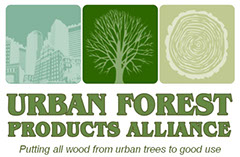 Urban Wood Network dot org

PLEASE AGREE WITH OUR MISSION AND WORK IF YOU HAVE NOT DONE SO —THANK YOU!