OUR LIVING PLANET, OUR ONLY SOURCE OF LIFE IS DYING FAST —IT'S UP US TO SAVE HER AND OUR CHILDREN'S FUTURES
IT'S TIME TO CHANGE HOW WE LIVE WITH ONE ANOTHER AND PLANET
CHEAP is unsustainable and unhealthy
CHEAP is unsustainable and unhealthy for people and planet and should be avoided.
We need to do all we can to refrain form cheap and make quality central to world, work and living.
More often than not cheap products are short-lived and synonymous with cheap labor (cheap living) and demonstrates a general disregard for the health of people and planet. With this in mind we should do all we can to avoid sales and purchase of cheap materials and products. Considering the great potential of our finite planet everyone everywhere today deserves a quality of life even if its just the wholesome basics.
We especially dislike any and all materials and products that are known to be harmful to people and planet. We believe most so called waste is reusable and therefore it should be put to work (like nature or redesigned so it does) not burned or buried.
We believe cheap products and cheap labor are unhealthy for people and planet and should be avoided by consumers and businesses alike.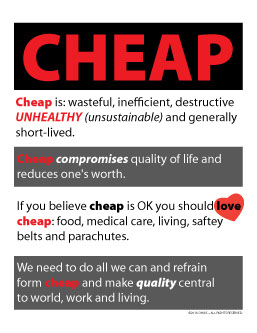 PLEASE AGREE WITH OUR MISSION AND WORK IF YOU HAVE NOT DONE SO —THANK YOU!