Our planet's very fiber and fabric of life is being destroyed so fast scientists from around the world have issued two dire warnings to humanity, our health and all life on Earth is at stake. Either we are not listening or it's our selfish ignorance of the needs of our living planet and others.
There's just one solution we can count on today —making our planet's health our first and foremost responsibly, by living just and sustainable, as one people and planet. This is our challenge today, as tomorrow will be too late to assure our children's future health and justice is better, not worse than today!
WHOLESOME WORK — IS GOOD FOR WHAT AILS US!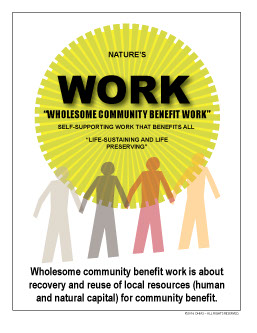 "Work spares us from three evils: boredom, vice, and need"
— Voltaire
"Everyone should eat and drink and find enjoyment for all his hard work. It is the gift of God."
Ecclesiastes 3:13
AGREE
NOW!
Essential

for well being and is as

important

wholesome food, rest, and relaxation.

No one should be denied

the opportunity to perform wholesome community work.

Is good

for what ails us today (people and community).
Wholesome community work has been

long under appreciated and valued.

There is

more than enough work

to do in our communities and finite world if we all learned to live and work

more naturally and responsibly

(sustainably)

like nature requires.
In this light we see our work as especially important because our work is r
esponsible and life-sustaining.
Doing this work (natures work) is
economically self-sustaining (self-supporting) once learning to value and appreciate

our planet's

finite life-sustaining capacity and potential.
Doing this community work is the
right thing for us to do

and clearly is a win for all.
If you agree

with OHIAS it is important that you show your support by completing a simple AGREE form here on our web site.

This is important

because without your recognition of this community benefit work our effort will not have the chance of producing the desired community benefits.
WHOLESOME WORK IS: