Our planet's very fiber and fabric of life is being destroyed so fast scientists from around the world have issued two dire warnings to humanity, our health and all life on Earth is at stake. Either we are not listening or it's our selfish ignorance of the needs of our living planet and others.
There's just one solution we can count on today —making our planet's health our first and foremost responsibly, by living just and sustainable, as one people and planet. This is our challenge today, as tomorrow will be too late to assure our children's future health and justice is better, not worse than today!
PROMOTIONAL MATERIALS AND GOODS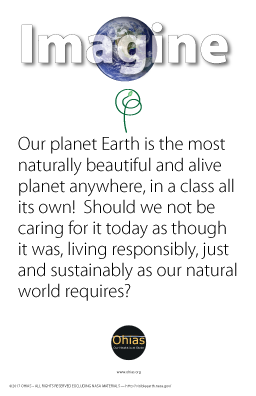 OHIAS (art) posters and goods help us spread our messages of urgency and hope for the future health of all people and planet, especially our children! We hope you will help spread the message by using our free materials for non commercial activities that promote our message.
OHIAS has created a number of posters beginning with the Occupy Wall Street movement in 2011. Beginning in August 2012 OHIAS began protesting along with local Occupy Wall Street people but with a focus on health of people and planet, as well as discontent with the wealth and power of the world's 1% (people and corporations). All are so noted here. Since then more have been added around our Mission and THINKING over the past 2 years while We are offering these posters as a way to communicate our mission and promote our work.
View posters here.
Our free download posters for personal use are coming
Limited Digital print posters signed by OHIAS' founder can be purchased — coming soon
Digital Goods can be purchased here.