Our Mission:
OHIAS's work is about educating, assisting and empowering all to live and work more harmoniously with nature and one another especially in our communities to avoid further and certain ruin of our planet's finite life-sustaining capacity. A principal objective of our mission is to end waste
as we know it today.
Our Work:
Putting our so called waste to work ...
Putting people to work ...
Putting our community to work ....
Creating sustainable community benefit
for all people and planet ...
It's the RESPONSIBLE thing to do!
Many of our Urban Forest benefits are ignored and wasted away when we can least afford it.
Today, urban trees are typically managed primarily for their living benefits and value. Felled urban trees are
rarely harvested with an eye toward additional uses,

even though timber from American urban areas could produce

3.8 billion board feet of lumber

annually. The failure to manage trees from seed to sawdust leads to the unnecessary loss of valuable natural resources and unnecessary expenses for communities and homeowners. We are losing more than just a resource. When we cut down trees and grind them up for whatever reason we are also hasening the release of more greenhouse gases into our atmosphere so its best for us to do what we can to use the wood from our trees and sequestor the carbon.
The following description of highest and best use is from the Urban Forest Products Alliance .
Highest and best use: Use that garners the greatest economic, social, and environmental return given the quality and quantity of the resource. Highest use maintains the greatest integrity of the resource, even showcasing it, and best use acknowledges practical economic, environmental, and societal realities.
We agree with the Urban Forest Products Alliance vision and embrace it.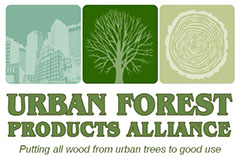 ©2015 OHIAS - All rights reserved.