Our planet's very fiber and fabric of life is being destroyed so fast scientists from around the world have issued two dire warnings to humanity, our health and all life on Earth is at stake. Either we are not listening or it's our selfish ignorance of the needs of our living planet and others.
There's just one solution we can count on today —making our planet's health our first and foremost responsibly, by living just and sustainable, as one people and planet. This is our challenge today, as tomorrow will be too late to assure our children's future health and justice is better, not worse than today!
People, COMMUNITY and Planet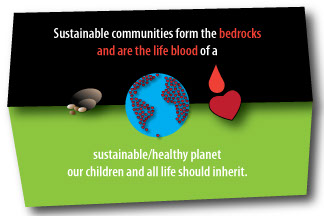 Poster:
Our communities are the bedrock of a sustainable people and planet.
OHIAS believes communities are the
bedrock

of a sustainable planet.
Global consumption now stands around
1.5 times

our sustainable capacity and is expected to grow even more over the

next 30 years.

Population and consumption are both on a raise and its likely we will see global consumption at

2 or more times

in this same time period. While there are a number of things that are influencing this growth beyond population and consumption the raise of global products and markets are making local economies less important and significant. This is not good for our nature world, our communities or us, its terribly unhealthy.
OHIAS believes a
great need exists

today to

reinvent community.

OHIAS is

hopeful

that its first community benefit project (MARIN Community Benefit Cooperative) will become part of this reinvention.
More is planned

for this subject and we will make it a priority to include all in our community.
You

help begin the process by writing us with your thoughts and ideas.